"Heaven Ticket Kraa Y3 S3n" – Ghanaians Slam Kidi On Social Media For His Charging Outrageous Prices For His Music Concert
The Golden Boy or Sugar Daddy, Kidi is currently been slammed on social media after he drops the prices for his upcoming concert which is Live with Kidi.
The prices according to Ghanaians are outrageous because of the current hardship in the country. His tickets start from a whooping Ghc3,000 to 15,000Ghc.
Some social media users are shocked because according to them, most of the big artsit do not even charge such amount of money just a concert.
His ticket prices are named according to his hits songs like, Touch it, Say cheese, Spiritual, Enjoyment and other. See the post below and some reactions.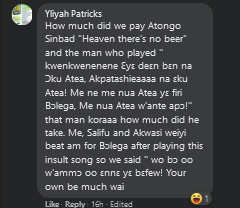 Source: Pinaxonline.com