Rev. Owusu Bempah And His Hooligans Arrested After Attacking Ghana Police Officers
Report gathered by our outfits indicates that popular Ghanaian man of God, Rev. Isaac Owusu Bempah and three others have been arrested for assaulting some police officers.
Rev. Isaac Owusu Bempah was arrested yesterday, 12 September 2021, after he supposedly requested his young men to assault police officers who were at his Church premises. As per report, police officials were there to arrest a portion of his young men who displayed firearms in a series of videos to undermine Nana Agradaa.
A press release from the Ghana Police reads;
"Reverend Isaac Owusu Bempah and three others have been arrested. The other three suspects are Michael Boateng, Fredirick Ohene and Nathabiel Agyekum. Two other suspects are on the run and the Police are pursuing them.
It further adds; the suspects are being detained for further investigations and over the creation and circulation of multiple videos containing threats, the brandishing of a weapon and the assault of some Police personnel".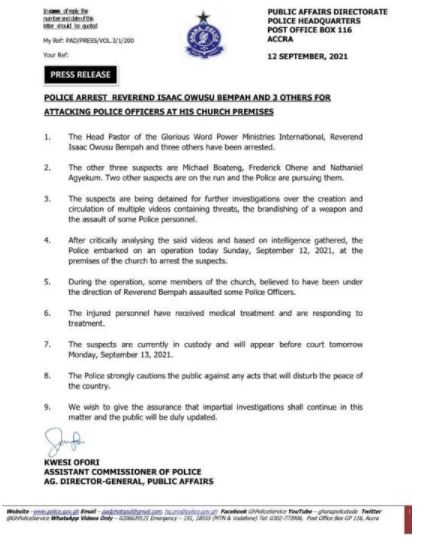 Background;
Rev. Isaac Owusu Bempah and Nana Agradaa have been fighting on the web and that has seen his young men showing off weapons in a video to caution the self acclaimed repented fetish priestess.
The young men with the man of God and a few hooligans raged the home of Nana Agradaa to confront her after she wouldn't quit offending him.
In any case, when they got to her premises, they halted before her door and challenged her to come out yet she rejected.