Shatta Wale Maturely Apologizes To Ghanaians After Calling Them Educated Fools And Disappointed Graduate
Shatta Wale over the Weekend made News after he insulted the Fix The Country campaigners. He called them educated fools after they tried to reach him to add his voice to the ongoing campaign, since he has so much influence in the Industry.
However, it seemed Shatta Wale saw nothing wrong with the country which needs fixing. In a series of post on social media, Shatta Wale contradicted himself so many times by sometimes making post advising his fans to hit the streets and fight for their rights and in another Post he blasted him for trying to get the country fix.
He stepped on so many toes when he later insulted majority of Ghanaians by calling them educated fools and disappointed graduate who are also cheap thinkers. This trigger so many people to start a hashtag advising their colleagues to stop following and streaming Shatta Wale's music.
This sadly went on for days, but finally The Dancehall King has maturely apologized. According to him, his godfather who also happens to be the husband of loud mouth BHIM nation hype woman, Ayisha Modi, Abass Sariki GIWA has spoken to him like a father and son therefore he asked his fans to forgive him for making such posts.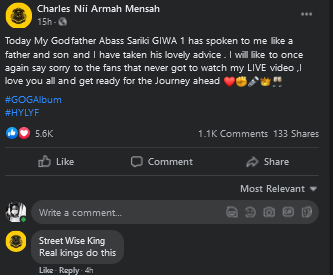 Source: Pinaxonline.com