Inexperience, Running Beside Yohan Blake Affected Azamati In 100m Heat – GAA CEO
The Chief Executive Officer (CEO) of the Ghana Athletics Association (GAA), Baba Fuseini, says inexperience was a significant factor in Ghanaian sprinter, Benjamin Azamati's failure to make it out of his heat in the Men's 100m at the Tokyo Olympics.
Azamati's time of 10.13s was not enough to get him into the three automatic qualifying places in his race, and was slightly slower than those posted by the three fastest losers in the heats.
The sprinter has already admitted that his nerves got the better of him in the race, having been alongside Jamaican Yohan Blake.
This was also picked out by Baba Fuseini who, in his appraisal of the performances of the Ghanaian athletes so far at the Games, suggested that Azamati might have been intimidated running so close to the second-fastest man in history.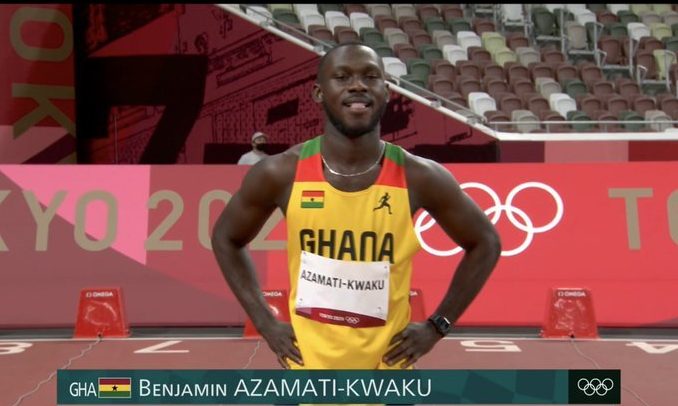 "For Azamati's performance at the 100m, we could say it was purely inexperience but if you look at the 100m times, the times that were being run were not too far from his personal best of 9.97. He could have actually got to the finals if he had got a good day in the heat that he ran. Maybe because there was that towering figure at his left-hand side that must have overwhelmed him, he staggered from the start," he said.
Bawa Fuseini argued that Azamati could have made it into the final of the sprint had his start in the heat been much better.
"At that level, apart from athletes like Usain Bolt who can recover from that kind of start and be able to win, it would have been very difficult for him to recover. He did recover but the recovery was too late for him to have qualified. I spoke to the coaches and they are in good spirits and are putting everything into [the preparations for] the relay and the 200m tomorrow by Joseph Paul Amoah."
Azamati admitted after the race that he may have been put off by stepping up to the blocks alongside Blake.
"Ever since I started running, I have never run alongside these great athletes and I think he [Yohan Blake] is one of them. There was nervousness and all of that, but I think it was a good experience, and I am going to get back stronger".